Acupressure Points for Eyes Improvement
One of the most intricate parts of your body is the eyes, and often one takes them for granted. We strain our eyes on a daily basis by working on our computers, as the changing world requires us to do so. However, did you know that with the help of Chinese treatment one can help your eyes from feeling strained and never too late to start taking care of them?
In many aged 65 and older people are diagnosed with cataracts. Many are told that this form of a problem is unpreventable. Also, the best way of treating it is by waiting for cataracts to become more opaque before one can have it removed.
When it comes to Western medicine cataracts are removed surgically, however, with traditional Chinese medicine, it is approached in an entirely different way. In TCM, this weakness normally related to kidney and liver problems, as these organs are weak and affect one's vision.
Another cause of cataracts related to the spleen as it transports nutrients to one's body in an upwards direction and when deficient this leads to a negative effect and causes cataracts. Help is available to prevent this from happening and by applying pressure to the acupressure points for eyes, one may just prevent cataracts from forming.
Check other About: Acupressure Points to Induce Labor
As the eyes are the most delicate organ in one's body, one can find some important pressure points for eye related ailments to use for improving your eyes. When one has illnesses related to, the eyes it makes one's life miserable and with acupressure, one can remove any form of obstruction that causes eye ailments. Not only do these pressure points the only correlate to the eyes, but helps to cure the body of other ailments as well.
Important Acupressure Points for Improving Eyesight
Here are some important acupressure points for the eyes to help improve one's eyesight.
Facial Acupoints for eyesight
Acupoints near the Nostrils
One can find this pressure point by using your index finger and adjacent to the left and right of one's nostril. You need to apply a moderate amount of pressure and massage these points simultaneously one either side with both hands for about 5 minutes each day. This helps to relieve a headache, obscure sinus vision.
Acupoints on the Inner edge of the eyes
By using these, acupressure points for eyes, one helps to improve your vision and contributes to relaxing your eyes after a long day of work. These points are found beside the bridge of the nose on the inner edge of each eye. You need to use your index finger and thumb of one hand and apply enough pressure on these Acupoints or use each of your thumbs and massage them evenly for 3 minutes. Do this every day for the best results.
Pressure Points above the eyebrows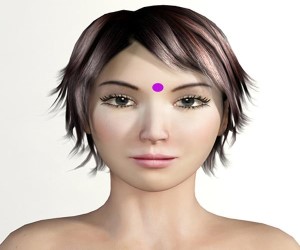 This widely used pressure point helps to relieve headaches and provides a drug-free pain relief with an amazing feeling. One can find this Acupoint below the eyebrows in the eye socket. One needs to use both your thumbs to apply pressure and massage to the bone for three minutes each moving from side to side. This helps for a stiff neck as well as headaches that cause strain on the eyes.
Acupoint between the eyebrows
This Acupoint found between the eyebrows known as the power pressure point and efficient to help for the strain on the eyes. Not only is this point excellent for relieving eyestrain it helps to control headaches as well. Here one needs to use your thumb and firmly massage the Acupoint that is the join of the t section between the eyebrows. Message in an upwards motion for about three minutes to better one's vision, relieve headaches and keep one's eye stress-free.
Tip on the first toe on both feet and tips of thumb on both hands – acupressure points for eyes on hands
These following acupressure points provide you with clearer vision. When applying pressure to the tip of the big toe found on both feet, these heals many different eye ailments. One needs to use your fingers and press on the tip of the first toe of your foot.
While the tips of the thumb on both hands helps to provide clearer vision and related to your neck muscles connected to the eyes. By using both your thumbs and messaging the tips for three minutes improves one's vision.
First Toe Point (Both Feet):
Final Word
The eyes are the most sensitive part found in one's body, and care needs to be taken when applying pressure to these acupressure points for eyes. Prevent applying excessive pressure and rather use moderate pressure.
One needs to do this treatment on a regular basis and should become part of your daily routine to provide the best pain relief and healing results. Apply acupressure at least once a day and practice steady pressure to master the finer details of reflexology.
Use acupressure point for the eyes with care and one will find that it is one of the best natural pain relief treatments found around the world providing you with a drug-free pain relief.