Acupressure Points for Neck Pain Relief:
In these modern days, our lifestyle has changed a lot from years ago – with everyone working on computers, and if one is working full time with mobile and desktop-based technologies, one is prone to have neck and shoulder pains. The neck is the most powerful part of your body as it controls head movement, and when one is plagued with discomfort and pain, it is difficult to do anything, especially if one has a stiff neck.
However, there is some good news to help you relieve these pains from headaches, shoulder pains, and neck pains by using some great acupressure points for neck pain relief. These points are mostly found in the neck and head region known as the Yang points, and one can use reflexology on these points when you have a free hand, which is very effective.
Acupressure Points for Neck Pain Relief:
One does not need to use all of them, only the ones you can easily reach.
Acupressure Points for Neck Pain Relief Infographic:
Take Care of Your Neck and Shoulders:
As previously mentioned, many of us work under stress and find ourselves sitting in front of our desktops, mobile devices, and laptops without moving an inch face, looking at the screen all the time. This eventually causes our shoulders and neck to become stiff, and we find ourselves with dreadful pain.
Neck and shoulder pain is not only caused by poor sitting posture, muscle strain, overexertion, and sprain but also poor sleeping posture. You are left with discomfort and numbness in the neck and shoulder region. One can easily cure it by applying some pressure and simple exercises for a couple of days to get it back to working order.
Check out this: Acupressure Points for Weight Loss – Works in 1-2 Weeks
However, if the pain continues for weeks and spreads to your back or leaves you with a headache, it is best to see your doctor.
Reflexology Points for Relieving Neck Pain:
For many of us, neck and shoulder pain hinders us in our daily lives, and the first thing most of us do is grab for painkillers to help solve the problem; however, by using pressure points, one can heal ailments from within ourselves to provide overall wellness for both the body and mind.
Before we discuss the exact pressure points, one needs to remember to press them softly with your fingertips and, if using them on another person, to keep asking the person if they are comfortable and that it does not hurt them. One can apply pressure to both sides of the body depending on the acupoint used and only apply pressure for 2 – 3 minutes and move on to the next point if needed.
More information about Acupressure Points for Constipation
Here are some important acupressure points for neck pain relief:
The Head:
The Drilling Bamboo
One finds the Drilling Bamboo, the groove on either side where the bridge of your nose meets the ridge of your eyebrow. These points do not only help with relieving neck pain but also headaches, eye tiredness, sinus pain, and hay fever.
Furthermore, one finds seven more pressure points one could use to help with neck pain relief, and one can use them simultaneously for arthritis, frontal headaches, and neck pain as follows: eyebrow ascension, deviating turn, fifth place, light guard, celestial connection, declining connection, and the jade pillow.
Neck Region:
The Wind Mansion
One finds the Wind Mansion in the middle of your neck in a hollow point where the neck starts under the base of your skull. This point when applying pressure helps with shoulder & neck pain, eye pain, ears, sore throat, mental problems, vertigo, and headaches.
Check this Also: Acupressure Points to Induce Labor
The Celestial Window
These pressure points are found in the side neck muscle behind and under the earlobe and are great for relieving headaches shoulder and neck stiffness.
The Gates of Consciousness
One can find the Gates of Consciousness below the base of your skull, in the hollow between the two vertical neck muscles, and great to use for migraines, neck pain, arthritis, eyestrain, irritability, stiff neck, and Neuromotor coordination problems.
The Window of Heaven
In the groove at the base of your skull, about one to two inches at the back of your earlobe, one finds the Window of Heaven. Applying pressure to this point helps with neck & shoulder pain, headaches, and a stiff neck.
The Heavenly Pillar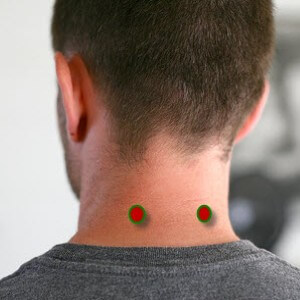 On the ropy muscles, 1 ½ inches below the base of your skull to the outward side of the spine, is the Heavenly Pillar, which provides great benefits when used. It helps relieve exhaustion, stress, eyestrain, sore throat, stiff neck, insomnia, and heaviness in the head.
The Shoulder Well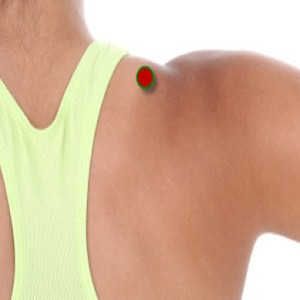 At the highest point on the muscles of your shoulder, about two inches to the outer side of the lower neck, is the Shoulder Well. It helps to relieve nervousness, fatigue, irritability, and shoulder tension. If used on a pregnant woman, one should apply pressure lightly at this pressure point.
The Union Valley, on the Hand
One finds the Union Valley in the web of your thumb and index finger. Stimulating this acupressure point helps lessen neck and shoulder tension and is a great way to relieve anxiety and stress.
Mother Nature at its Best
Herbal supplements have been used for centuries to help relieve pain, and in combination with your acupressure therapy, one can use the following to rub it on the sore muscles:
Menthol and Camphor have been used in many over-the-counter rubs for muscle and joint pain. However, one can apply these distilled oils and rub them into the skin. They help to increase blood circulation to the distressed area and produce a warm or sometimes cool sensation while soothing and making the muscles relax.
Lavender – is available in fragrant essential oils and can be combined with your reflexology and massaged into the affected area. It is great for neck pain relief or any other muscle pain relief.
Acupressure Therapy has come a long way
For centuries, people have used acupressure therapy effectively to help cure different ailments found in the body. By applying these acupressure points for neck pain relief, one feels the soothing touch of this anciently used technique, which will help naturally restore balance in your body and mind. Complete your day with a therapeutic acupressure leisure and naturally rid yourself of stress and pain!