Best Acupressure Sandals With Buyer's Guide
Find the best acupressure slippers here. We have compiled a list of therapeutic acupressure sandals to provide pressure on the many acupoints to make you feel relaxed and heal your body from ailments.
We know there are many other ways from Elbow touch to many different devices to help boost your immune system and relieve pain.
If you are interested in the other methods, you can look at the Laser Acupuncture Pen, and Acupressure Bands, and you can find the best acupressure slippers with us.
The important thing is for acupressure to work, the method you choose needs to pinpoint specific pressure points on the body. So if you are not sure about which footwear to choose, make sure to read the acupressure slipper buyer's guide that follows here.
What makes it so great when choosing any of the wearables or devices there are no side effects compared to using medical treatments.
Here is a list of the top acupressure sandals with descriptions and features to make your selection comfortable.
Best Acupressure Slipper Sandals
The acupressure massage sandals from Relaxus work with reflexology. On the surface of the shoe are hundreds of points comprised of rubber. As you place your foot into the footwear and touch the nodes, it presses on different acupoints to release blocked energy in the body.
The sandal helps relieve pain and gives you a relaxed feeling. While walking, you can feel the Shiatsu treatment working. With the shoes, you can get a rub down while walking, and saves you time and money instead of visiting a masseuse.
The upper side of the shoe has a strap to keep the sandals secure, and you can buy them in a black/white color. There are different sizes available for men and women.
Features:
Made with 100 points that manipulate all the acupoints in the body and is cheaper than visiting a masseuse
Comprise reflexology to make your feet feel relaxed
For a secure fit, it comes with a strap on the upper side for a comfortable fit
The constructions are durably made with rubber
Available in black with different sizes for men and women
Pros
You get a mini-Shiatsu and reflexology massage at the same time
Affordable
Durable
Comfortable to wear while walking and standing
Made with hundreds of pressure points
Cons
The nodes feel a bit more prickly compared to other brands available
Sizes run large
Wearing the acupressure sandals at first may feel a bit uncomfortable, but once you are used to them, it makes your body feel relaxed. For stress relief, the footwear is tremendous and offers you an excellent quality sandal to help relieve pain and stress.
For the best acupressure sandals made with natural stones, look at the Neo Reflexology brand. The footwear is equipped with Therapeutic Natural Stone strategically placed on the surface to massage many pressure points. The shoe has an EVA construction with a PU sole.
You can wear them on a daily basis as the fabric has Anti-Bacterial properties and leaves no odor. The method of healing used is reflexology and Shiatsu. The material is non-slip and comes with an adjustable Velcro strap for the best fit. You can buy footwear in different sizes for men and women.
You can use the shoe regularly with amazing results for up to 20 minutes a day. The sandal is uncomfortable at first but helps boost blood circulation to provide you with better energy.
Features:
Made with natural cobblestones strategically positioned to apply pressure to the acupoints each with a different function
Helps relieve stress, prevents leg cramps, promotes blood flow, regulates your energy levels, and more
Painful at first but indicates that the stones are working and gives a deep tissue massage
The construction EVA has a PU sole with a non-slip design
Adjustable with the Velcro strap and the fabric has an anti-microbial agent to prevent odor
You can wipe it clean with a damp cloth
Available in various sizes for men and women
Pros
Great to treat plantar fasciitis problems
You can enjoy a mini shiatsu massage
Made with quality material
Adjustable strap
Durable
Affordable
Made with earth stones and non-slip
Hygienic to wear without the odor left behind
Cons
Does hurt when you wear them for the first time
The unique thing about acupressure sandals for ladies and men is the natural stones in the shoe. You get more than only relief from pain and can enjoy a foot massage while you walk. While worn on a regular basis the results are amazing for the body, further, it helps with your energy levels and improves your blood circulation.
The ADISSAGE Slides is a slip-on acupressure sandal that massages your feet when walking. If you partake in sports, you know how tiring it can be on the feet. Your feet take a daily pounding at the workplace as well. What makes the slip-on so unique are the hundreds of tiny nubs that apply pressure with every step you take.
The shoe has a quick-dry lining and the single-strap closures are adjustable. You can buy them in different color styles to fit in with your wardrobe. Further, it has a rubber outsole and TPR footbed, and the outsoles are injected with EVA and non-marking. Choose your size today as there are different sizes available.
Features:
Made with hundreds of tiny nodes that massage the feet
Different colors and sizes are available
Comprise a rubber outsole injected with EVA and non-marking
Has a TPR footbed with a logoed hook-and-loop strap with a quick-dry lining
Pros
Makes great go-to slippers after a long day on your feet
Suitable to lounge around the home or wear outdoors
Durable
Comfortable
Gives a fabulous foot massage for tired feet
Cons
Sizes run huge and best to order a size smaller
The Adidas might not be a therapeutic acupressure sandal but is excellent to wear for a foot massage after a long day on the feet. The footwear is comfortable, but the sizes do run huge, and best to read customer reviews before ordering.
The Revitalize Your Sole healing acupressure sandals offer you countless benefits. The footwear looks funky and provides your body with comfort, supportive results, and is efficient to wear. You can buy the shoes in different color styles to fit in with your lifestyle.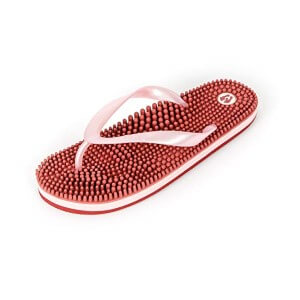 You can wear them anywhere and offer you a health-conscious fashion accessory. Revs uses reflexology in the shoe to apply pressure to different acupoints in the footbed. Utilizing the slipper on a daily basis helps boost your health, keeping you energized all day.
You can keep your body at a perfect level with the cushioned sole and suitable to wear in the summer.
Features:
Fashionable design with different colors and sizes available
Made with quality rubber with many acupressure massage points on the footbed
Gives a fantastic foot massage and keeps your energy levels up
Suitable for vegans to wear and contains no animal produce
The designs are absorbing and perfect to wear indoors and outdoors
Helps you to recover from Varicose veins, and diabetes, improves circulation, and more
Pros
Fashionable
Leisurewear for summer
Gives you a foot massage and is made with natural rubber
Comfortable and shock-absorbing
Great arch support
The reflexology massage flip-flops offer you pain relief for many sicknesses. Further, it gives you a relaxing massage while walking. The shoe is fashionable, and with the fantastic shades available, you can wear them with your casual clothes anywhere.
Compared to the other therapeutical acupressure shoes on the list, the sandal comes with 41 massage pressure points. The footbed is customizable to add more nodes. The footwear is not comfortable at first but once you get used to them it helps to maintain your health.
You can wear them daily once you are used to them and save you time and money compared to other medical treatments. There are different sizes available and the shoes come with additional massage buttons. The Kkika has a durable construction with a comfortable footbed and non-slip outsole.
Features:
Painful at first but later you get a fantastic foot massage with the pressure points on the footbed
The nodes are customizable and you can add or remove the buttons
Included you get a multi-functional bag with three extra buttons
Available in various sizes at an affordable price
Pros
Comfortable after a while
Helps relieve back pain
Gives a great massage
Affordable compared to having a regular foot massage
No side-effects
Cons
You can experience some discomfort with pleasure after a while
The shoe may be a bit different compared to other acupressure massage shoes as you feel pain in the beginning. The important thing is not to stop wearing them, as they get better with time. The footwear is beneficial to help relieve pain and improve your blood circulation keeping you healthy. Further, when it comes to acupressure sandal reviews, they are highly recommended for back pain.
One of our favorites is the Cantos Korea slipper sandal implementing Reflexology and Shiatsu Treatments in one shoe. The footwear has a unique shape and style with a black-and-white design. There is a Velcro strap on the top with their eye-catching logo.
To improve your health and blood circulation, you need to wear the sandals daily. The slide sandals are easy to put on and take off if you have arthritis. The soles have solid construction and do take a bit of getting used to. If you find they are uncomfortable, you can wear them with socks at first.
The sizes run on the big size and best to buy a size smaller. Another notable thing is they may smell like plastic at first but fade after time with use.
Features:
Made by a trusted manufacturer and a leader in the acupressure shoe industry
Works with reflex and Shiatsu treatment to give you a foot massage when worn
The inside cushioning is comfortable and made with soft Phylon fabric
The fitness slippers keep you fit and have a Velcro band with a slip-on design
Pros
Gives a relaxing foot massage
Comfortable after a while
Durable
Easy to put on and take off
Trusted Brand Name
Cons
Can hurt the bottom of your foot at first
Has a slight plastic odor when removed from the box
You get a great feeling when wearing the slippers and make you relaxed. The cushion-like footbed offers a great massage when walking or standing. What makes it unique is the treatments based on the reflexology principles. The sandals look stylish and slide on and off comfortably.
The surface of the acupressure slippers is made of wood and equipped with pressure point stones. The pebbles are set in such a way as to target specific acupoints found in the feet. For standing all day, the shoes help make your feet relax and improve your immune system at the same time.
By wearing them, daily the stones help make a difference and hold many benefits. Furthermore, the footwear you can get for men and women in different pattern styles and sizes.
Features:
Made with a wooden footbed and acupressure stones
Available in various sizes and pattern styles on the band
Works with reflexology treatment to give the feet a rubdown when walking or standing
Pros
Durable
Comfortable
Easy to put on and take off
Affordable
Gives a great foot massage
Cons
Can hurt when you put them on for the first time
For relieving pain and reviving tired feet, the wooden acupressure sandals with natural stone can help. The footwear can help improve your immune system such as indigestion and make you feel relaxed.
The sandals from BYRIVER have a different design compared to other acupressure massage sandals. The footbed is equipped with rotating spring massage buttons. The nodes rotate 360 degrees while walking. In the footbed are eight pieces of real jade stones to improve your health with chi therapy.
The construction of the shoe is environmentally friendly and made of natural fabric. For tension and pain, it provides a natural healing process without the side effects. You can wear it to refresh your feet and is excellent for people suffering from plantar fasciitis.
The strap adjusts for a perfect fit and best to take a size larger.
Features:
Helps soothe sore feet with the rotating spring massage buttons
Equipped with an eight-piece jade stones
You get a professional foot massage while standing and walking
Made with quality material according to the RoHS requirements
The straps adjustable
Available in different sizes
Pros
Gives a fantastic foot massage
Durable
Easy to put on and take off
The straps adjustable
Helps with plantar fasciitis
Cons
Painful at first
Best to buy a size bigger
Do you need some relaxation in the feet? Try these acupressure sandals you will not be disappointed. With the rotatable nodes and stones, it gives a fantastic foot massage. All you need to do is slip them on the feet and start walking.
The next acupressure sandal uses a unique design with rubber-tipped nodes with magnetic therapy to help relieve pain. Further, it helps to make you sleep better. The pressure points are divided into ten zones placed in five areas on each side of the shoe.
By wearing them throughout the day, you can heal your body through your feet. There are four magnets to help improve your blood circulation and reduce aches and pains. The outsoles are non-slip and have a waterproof design. The fabric is breathable and holds moisture back.
Features:
Made with reflexology and magnetic treatment
Comprise nodules are placed into ten zones with four magnets
Has a non-slip outsole with a waterproof structure
The fabric is breathable to keep the feet dry
Available in four sizes and designed according to the foot
Pros
Flip Flop Design
Comfortable
Excellent fit
Helps with lower back pain
Easy to put on and take off
Cons
Painful at first
Sizes run small
The acupressure shoe can be bought in a hook-and-loop structure or y-strap flip-flop. The footwear has a comfortable fit but can be painful to wear at first. However, once you have gotten used to them, it helps to relieve pain and make you feel stress-free.
Do you want the original acupressure sandal made entirely of wood look at the Affaires brand. The whole shoe has a wood construction, even the massage nodes. The band adjusts for a perfect fit and comes with one large wooden node that goes between the big toe and the smaller one next to it.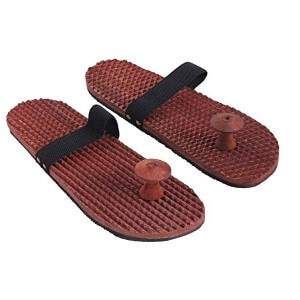 Furthermore, the shoe is ideal for preventing leg cramps and gives you a soothing massage. Further, it helps relax muscles and speeds up muscle recovery.
Features:
Made with wood
The nodes comprise hardwood
Has one band you can adjust over the foot for a perfect fit
Has one big wooden node that goes between the toes
Pros
Durable
Adjustable strap
Helps relieve leg pain
Gives a great massage
Cons
With the design, it can be a bit uncomfortable to wear
The acupressure shoes may look different compared to the other brands on the list. However, once you get used to wearing them, you will feel the difference in your legs. You can get a great foot massage without going to a therapist, and it improves your blood circulation.
Which Acupressure Sandals Do You Like
With the acupressure sandals reviewed, you can treat various health conditions. You can relieve pain by applying pressure on particular points in your feet. The foot acupressure helps balance your body and prevents diseases.
What makes wearing the shoes so great it target all the areas in your feet connected to different points in the body. So which footwear on the list do you prefer?
No matter what pair you like the shoe can help cure diseases and release life energy in your body. So go ahead, get a pair of acupressure massage sandals, manipulate the acupoints in your body, and let the energy flow freely to a better life.
Acupressure Massage Sandal Buying Guide:
So why choose a pair of acupressure sandals for overall health instead of visiting an acupuncture therapist? We can give you a short description and the extended version. The answer is acupressure does not work with needles compared to acupuncture (especially if you have a needle phobia.) However, if you want the longer description make sure to read on.
Wearing acupressure sandals or slippers is not only there to help relieve pain it also helps to make you feel stress-free. A fact is there are loads of benefits to wearing acupressure footwear. Once you have them on your feet, it may feel uncomfortable at first, but after a while, you can enjoy a comfortable walk.
Alternatively, you do not have to wear them all day. You can decide when to wear them and make it part of your daily routine to massage the acupoints. The shoe comprises different points or nodes that help to heal various ailments in the body.
How to Use Therapeutic Acupressure Sandals
You must agree, wearing sandals is much more comfortable during the summer than walking with closed shoes. The footwear is versatile, and you can wear them to the beach, walk to the shop, or use them around the home. However, there is a difference when choosing an acupressure sandal.
The dissimilarity is that it comes with pressure point nodes made of different materials. You can buy them with rubber, wooden, or stone nodes and each one offers you different methods of treatment and comfort. Another difference is choosing a wooden acupressure sandal is not comfortable at first.
A fact is that none of the sandals are comfortable at first and take time to get used to when worn. The majority of brands available on the list are made of state-of-the-art materials. However, after wearing them for a while, it helps with different aches & pains and diseases.
However, if you do not have specific problems, it can still make you feel relaxed. However, how do you wear them? You use the footwear as any other shoe. If the sandal is uncomfortable at first, you can wear them around the home with a pair of socks until your feet get used to the feeling of the nodes.
Acupressure Slippers Benefits:
Similar to the ancient Chinese therapy wearing a pair of acupressure slipper sandals offers you many benefits:
Helps make your legs more flexible and healthy
Improves the blood circulation
Provides your nerve endings with a regular blood supply
Aids in reducing pain in the muscles, joints, neck, and more
Helps stimulate your immune system to prevent you from getting sick
During your menstrual cycle, it helps relieve headaches and migraines
Acupressure sandals improve digestion, cure restless leg syndrome, increase the intake of oxygen, and more
Helps improve sleep
Now that you have seen the benefits, are there any side effects related to wearing acupressure shoes? A fact is that there are minimal side effects known, but you do need to take care if:
You are pregnant – massaging specific pressure points, can lead to a miscarriage
The treatment is a slow process and takes time
You cannot use the procedure for all medical conditions related to the heart, brain, kidney, and liver
If you have a fractured bone, it is best not to use this method
As you can see, the side effects are minute and we always recommend you first talk to a physician before attempting acupuncture or acupressure. Further, before deciding on the best pair of shoes make sure to read the therapeutic acupressure sandal reviews online.