Best Q Flex Acupressure Massage Tool – Gives You a Self-Massage:
Do you suffer from deep muscle pain, back pain, nerve pain, or other forms of aches? You can use the best Q Flex acupressure massage tool to give you a self-massage.
You can enjoy a comfortable back massage with loads of benefits. The most significant advantage is it saves you money and time visiting a chiropractor.
Further, you can find different brands of Q Flex back massaging tools on our list. So what are the top Q Flex body and back massage devices available—and how do you pick the best one?
We have all the answers available for you right here!
Best Acupressure Back Massagers
For one of the best Q Flex self-message sticks, Gideon Sports stands first in the row. The price is reasonable, and it has a durable construction. You can use it for different pain relief from back pain to nerve pain. The product comes highly recommended by massage therapists and physiotherapists.
Do you need a deep tissue massage? You could benefit from using the massage stick with eleven pressure knobs and spikes. Compared to other tools this one goes deep to the core of the problem. You can apply it to rub down your neck, arms, buttocks, torso, back, and more
The spikes and nubs are designed similarly to the hands and fingers of a massage therapist. The construction is rectangular and easy to hold and use. The surface is non-slip offering a perfect grip and made of polyethylene that is durable.
Features:
Made with polyethylene with a non-slip surface and rectangular design
Available with eleven knobs and spikes for deep tissue massage
Flexible to use on any part of the body
The balls look similar to a professional massage therapist's hands
Pros
Flexible
Durable
User-friendly design
Can use it with a wide selection of pain
Comfortable to hold
While the Q Flex from Gideon Sports is a bit pricey, you are getting one of the best back massagers to use at home. Furthermore, you get a flexible device to use in all parts of the body, and it has a quality construction that will not break quickly.
The acupressure massage tools are equipped with some knobs to relieve pain. The user-friendly design makes the device simple to use and has a durable construction. There are eleven balls to apply pressure to various parts of the back. Included are two round knobs for upper buttock and lower back massages.
Additionally, there are two balls for deep tissue massage and two other ones for foot massage. You can even use it to massage your neck with the three massage knobs. Compared to other models this one offers you versatility. With the simple design, you can reach sensitive areas from different angles.
You can control the pressure applied to different parts of your body. Similar to other massage tools this one also has a polyethylene structure and does not contain BPA.
Features:
Made with polyethylene and a non-slip surface
Comprise eleven knobs to use of different acupoints
The design allows you to use the tool from different angles
Include an instruction manual
Pros
Durable and flexible
Comfortable in hand
Gives a great back massage
Helps relieve back pain
Easy to use
Applies pressure well
Cons
Expensive
Might be a bit small for some users
The Buddy Trigger Point self-massage tool is more expensive than most other Q Flex devices but the constructions are excellent. The grip is comfortable, and the non-slip surface keeps the implement secure in the hand when used. With the different acupoint points, you can apply pressure to most parts of your body.
Who of you needs a battery-operated massage tool if you can use the hand model instead? With the device, you can use it by yourself without help by holding the handles in different positions. There are various pressure nodes throughout the invention to help relieve pain.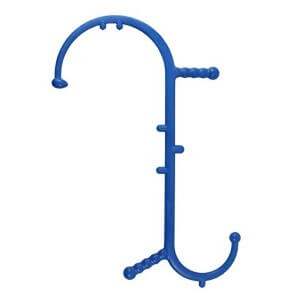 The apparatus has a plastic construction without moving parts and is durable enough to last a long time. Included with the acupoint balls, you get spikes as well for deep tissue massages. All you need to do is change the angle of use to apply pressure to different meridian points.
While this is a back massager, the versatility is endless with the particular nodes to work on every muscle of your body.
Features:
Has an open design and is shaped naturally to reach all muscle groups on the body
Consists of ten knobs with four different types of pressure points
Helps with chronic pain and relieves stress
Comes with a 100% satisfaction guarantee
Measures 26.4 x 16.1 x 1.4-inches
Include instruction manual
Made with durable plastic
Pros
Durable
Versatile to use
Comfortable in hand
You decide how much pressure you need to apply
Cons
Has a sharp node that may be painful for some users
The self-massage has an affordable price, and the build quality is the best. Furthermore, you get a good number of acupoint balls to reach different parts of the body.
For trigger point therapy, the Junior Q Flex acupressure massage tool is perfect to help relieve pain. The model has seven pressure knobs and is smaller in design. There is a node for deep tissue massage, an all-purpose one for your thighs & calves, one for local pressure, one for the shoulders and back, and even one for your foot, lower back, and buttocks.
The device has a quality polyethylene structure to apply sufficient pressure without it breaking. Further, the material is hypoallergenic without harmful chemicals. You can use it in the shower and weighs less than a pound. The compact design is ideal to take with you anywhere.
The device fits comfortably in the hand when applying small to large amounts of pressure.
Features:
Sturdy polyethylene construction with a cane design
Portable design that weighs less than a pound and has seven therapy knobs
The massage tool measures 23 inches long and is TSA-approved
Hypoallergenic to use in the shower
Lifetime Guarantee
Pros
Gives full body pain relief with the seven knobs
User-Friendly
Applies pressure with minimal effort
Made with BPA-free material
Durable and strong build
Cons
Not suitable for people with a large body
The price is moderate and offers you a highly productive back massage tool. There are fewer nubs available, but it is durable, flexible, and reaches most parts of the body.
The selfie massager from LiBa is something to consider when you have stress and muscle pain. Another benefit is it makes for a great back scratcher if you live alone. The plastic is environmentally friendly, hypoallergenic, and BPA-free. You can use it in a hot bath or shower without any concerns.
The design is user-friendly and fits comfortably in your hands no matter how you use it. The device reaches hard-to-reach spots without straining yourself and provides pain relief control when you need it the most. There are several balls, each used for different parts of the body from your head to your toes.
Features:
The selfie massager has an intuitive design with therapy nodes and spikes
Offers you a muscle massage tool with a comfortable hold to apply pressure where needed the most
You can use it on your neck, torso, back, shoulders, feet, legs and more
Measures 23.5 x 14 x 1 inch and weighs less than 1 pound
Has a curved handle making it comfortable to use
Comprise durable plastic that is eco-friendly and chemical and toxin-free
Three-year warranty with instructions included
Pros
Durable and convenient to use
Can use it on different parts of the body
Made with hypoallergenic material
Safe to use in the shower
Easy to apply pressure as needed
Instruction manual included
Cons
Not ideal for short people to use
The LiBa offers you value for money and presents you relieves pain in different parts of the body when used. The build is durable and makes it a significant investment if you need a selfie massager.
Now for the first Q Flex back & neck-massaging tool, one can say many positive things. For severe back, shoulder, and neck pain, this model comes out at the top — the products are made in the USA and comprised recycled with further recyclable plastic. Nothing comes more eco-friendly than this product.
For comfort, it has a handle offering excellent grip and non-slip at the same time. With the unique shape of the handle, your arms remain in a low position, and great if you are suffering from back pain. To apply pressure, it comes with a pear-shaped tip.
Features:
Has a particular angle design for a natural hand grip and keeps your arms low when used
Pear-shaped tip to apply pressure
Lightweight and portable with recyclable plastic
The surface is non-slip offering an excellent grip
Made to use on the neck, shoulders, and back
Pros
Easy to hold and you do not need to apply much pressure
Strong and flexible
Helps with chronic pain relief
Comfortable in hand to use
Cons
A bit expensive if you take the limited use into consideration
The build of the Q Fleck back massage tool is durable and the designs are unique. Unfortunately, you can only use it on certain parts of the body compared to the other selfie massagers on the list.
Do you need convenience in a selfie massager? Look at the THERA that comes with six treatment balls to relieve different aches and pains. You can disassemble the device for traveling making it great for on-the-go use. You can use it on your back, neck, shoulders, buttocks, feet, and more.
For relieving primary muscle pain, the device offers you flexibility and durability at the same time. Applying pressure is no problem with the plastic design and will not snap or break. The handle is comfortable in your hand and easy to hold and use. You can use it from different angles and is excellent to help relieve pain.
Features:
Include a DVD
Easy to use with the handle to reach different parts of the body
Comes apart for traveling
Measures 24 x 15 x 1-inches
Available in assorted colors
Six knobs
Pros
Comes apart
Flexible and comfortable to use
Durable
Cheap
Can use it on different parts of the body
Cons
Not that many acupoint benefits compared to other back massage tools on the list
The benefits of the THERA are limited compared to other Q Flex acupressure massage tools. The back massager can help relieve tension in the neck, back, shoulders, and more.
Compared to the Q Flex cane massager mentioned the THERA has a similar design. The device provides you with the same pain relief and is made with hardwearing plastic that is flexible and strong. The handle is comfortable to hold and comes with six different nubs for necessary pain relief.
For those of you struggling with muscle pain and stress the cane massager could help. You can use it on the feet, buttocks, back, neck, and more with the rounded design. You can enjoy a comfortable massage without too much strain on your part.
Features:
Cane shape that is comfortable in the hand
Comes with six treatment balls
Measures 24 x 15 x 1-inch
Made with durable plastic
Pros
Convenient to hold
Rounded design and comfortable to use
Offers a great grip
Versatile to use
Durable
Cons
Not as many benefits to relieve muscle pain with the six knobs
The selfie massager you can use on your back, neck, and buttocks to help relieve pain. You can get the best pain relief and relaxation benefits using the device. The rounded design makes it comfortable to use and glides smoothly over the muscles.
Which Acupressure Massage Tool Do You Like?
We hope that you find a suitable Q Flex acupressure back and neck massage tool on the list. Each product offers you a convenient way to massage your back muscles. Furthermore, the device is great to help make you feel relaxed after a long day at work.
Why spend a fortune on visiting a massage therapist if you can do it in the comfort of your home at half the price? The construction of the back massage tools reviewed offers you durability and flexibility. Additionally, it can help you with treating various muscles from different angles.
Each brand does an excellent job of promoting blood flow and offers quick recovery times after exercise. Some offer you a deep tissue massage while others are made for lighter use. No matter what you need, we hope the devices help make your day pain-free.
Work wonders with the portable massagers to tackle sore muscles offering you excellent benefits and affordable prices.
Back Massager Buyer's Guide
Okay before we start there is one thing you must remember—the Q Flex acupressure back massager is not battery-powered or vibrates. The static device you use to rub down different parts of the body. With the available hooks and straight edges equipped with knobs and spikes, you get multiple tools to heal various ailments.
With the knobs & spikes, you apply pressure to different body parts to relieve nerve and muscle pain. The tool is affordable, comfortable to use, and effective.
Further, they offer you a load of benefits as you can use the tool yourself. Additionally, it helps relieve pain and is less expensive than visiting a therapist. Having a self-massage improves your blood flow, unknots muscles gives deep tissue massage, and applies acupressure and reflexology at the same time.
How does the Q Flex Work?
There are different models available each with their instructions to use. Furthermore, it depends on the pain and the type of relief you are looking for. The general rule is to apply small amounts of pressure on light problem areas. It helps if you rub it in a circular motion. However, for deeper severe problems you want to apply more pressure and work in a slow stroking motion. Alternatively, it also depends on the shape of the back massager you are using as well.
Essential Features of the Q Flex Acupressure Massage Tool
The back massage tool has a simple design, but there are crucial things you need to look at when buying one.
The Knobs
The most important aspect of the tool is the number and types of knobs available. You will see them displayed as balls, nubs, or treatment points. Depending on the number of knobs available determines what kind of rubdown you can use it. If there are up to six knobs, it offers you a basic massage on limited parts of the body.
While one with up to eleven balls offers more benefits to use with other parts of the body, you can purchase it with sharp points to rounded balls. For a deep tissue massage, the sharp points are ideal, and the rounded balls are suitable for pain that does not run deep.
The Material
The fabric must be durable and made of high-grade polyethylene. You will be applying much pressure and do not want it breaking when used for the first time. Further, the tool needs to be flexible to use on more than your back. Are you concerned about the environment? You can find some brands made with recycled materials that contain no BPA.
User-Friendly Design
When it comes to giving yourself a back massage the tool must be comfortable to handle. You need to hold it with ease and offer an excellent grip. Another critical thing to consider is your size, and you can buy from small to big ones.